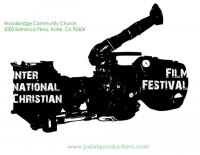 FILM FESTIVAL WITH LIVE SCREENINGS


Oct 5, 2019
Notification Date: Oct 1, 2019



ICFF offers a unique opportunity to come together with other Christian directors and producers to create new opportunities, develop tools for success and forge new alliances within the international Christian film and entertainment industry.


*Please read the following submission requirements
carefully before you complete the entry form.

2019
Submission Requirements:
All non-English films must have English sub-titles.
Films must be SUBMITTED on DVD or digitally through Withoutabox.
Preview DVD or digital submission should be labeled with the title, running-time, screening format and contact information (name, address email and phone number).
All films selected for the Festival grant the International Christian Film Festival the rights to use DVD/videotape and press materials from the film for promotional purposes.
The International Christian Film Festival is permitted to retain copies of each film selected as part of our festival library and for media educational use.
Films cannot contain any nudity or foul language.
Films must have a Biblical/Christian theme.
Short films must be no longer than 15 minutes
Feature films and documentaries must be no longer than two hours

Deadlines:
Films must be received by September 1, 2019.
Selection:
Film selection for the festival will be made by the Festival Committee.
The entrant will be responsible for ALL SHIPPING FEES.
All filmmakers will be notified via email of acceptance.
International Christian Film Festival cannot be held liable for print/video materials which may be lost or damaged.

Format is it must be DVD or digitally through Film Festaroo.
Categories:

1.Evangelical
2.Family
3.Music
4.Foreign
5.Dramatic
6.Education
7.Animated
8.Science
9.Documentary
10.Historical

Your DVD will not be returned


Trophies will be given to winners.


Email Event
EVENT VENUE
Woodbridge Community Church
5000 Barranca Parkway
Irvine CA 92604
United States
UPCOMING DEADLINES
Regular
Jul 1, 2019
Late
Aug 1, 2019
Final
Sep 1, 2019
The final deadline has passed.

Please check back in the future to enter the next season of this event.